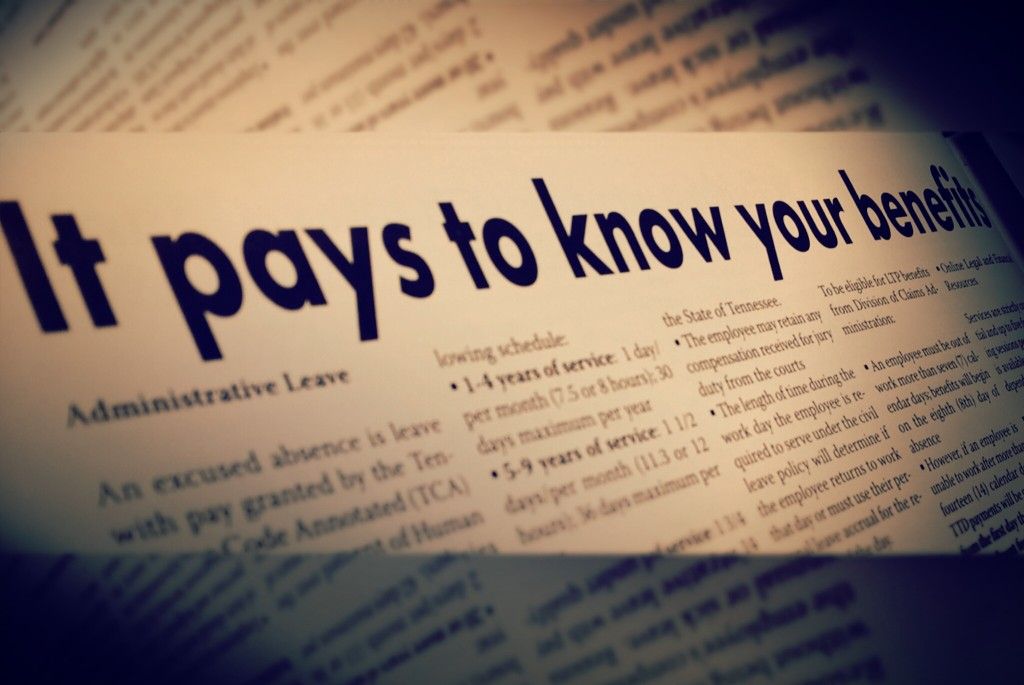 TSEA members enjoy access to a Compensation & Benefits staff that provides advice, assistance, and counseling for issues related to retirement, health insurance, working out of class, sick leave & disability, longevity, annual leave balances, and much more.
Here are a few examples of how TSEA's Comp & Benefits staff has helped members recently:
Assisted DHS employee with plans to retire in October of this year. Discussed use of leave balances, final longevity payment, insurance, and provided employee with retirement estimate. Employee selected the Social Security Leveling plan as she will not be eligible for early Social Security
benefits for about a decade.
Assisted a DOH retired member who received her first partial month retirement benefit. She wanted a copy of her paycheck stub. Staff explained
that TCRS has implemented Concord, a new computer system in recent years and retirees can now access their account online. Guided her to the TCRS website where she can register to set up her retiree online account.
Assisted DCS member with plans to retire due to poor health. Helped him establish retirement credit for 11 months he was on temporary total disability (TTD) benefits for a work injury and getting paid for an overdue longevity check. Member needed help with the required forms. He had significant leave and will retire with over 30 years of service. He is considering Social Security Leveling.
Assisted DCS member who contacted TSEA when she was denied leave previously requested. After phone calls to DCS HR employee was allowed to take leave. However, agency has implemented a 'no leave' policy for October and November due to a December audit.
DLWFD members contacted TSEA on the second day the temperature in their building was 88 degrees. They were allowed to go home but had to use annual leave. The night of the 3rd day repairs were to be done; however equipment complications prevented this. Through TSEA efforts employees were given administrative leave on the 4th day and repairs were completed on the 5th day.
A member of DLWFD contacted staff after he received a mail order prescription at home though he fills his prescriptions at a local pharmacy. Through multiple phone calls and emails, staff discovered the member's doctor mistakenly sent an electronic prescription to Caremark. Through our efforts the member was able to fill the same prescription at his pharmacy and was not charged twice.
A DCS member contacted staff with a concern regarding prior service credit for TCRS. She is considering retiring early next year. Member was previously employed in a local Community Health Agency. Through phone calls to her county and TCRS it was determined that the time worked as a contract employee with a CHA was not creditable service toward her state retirement.Assisted DHS member with an unpaid claim. Employee had to go to ER, was admitted to a provider hospital, and had to have emergency surgery. The surgeon was not an in-network provider but the patient had no control over this. Staff contacted Cigna since employee was treated in a participating hospital. Cigna researched, adjusted and paid the claim.
Assisted DIDD member who was scheduled by her supervisor to take compensatory leave even though the employee was within 2 days of her maximum annual leave and should have been given an option to take annual or remain at work. Staff contacted DIDD HR Director, who intervened so the employee could return to work, and the forced leave will not affect the employee's balances.
Assisted DCS member with getting her Master's degree salary increase. She had completed her degree December 2011 and submitted her request during the proper period June 2012. She had been denied initially and did not understand why. Staff contacted HR to inquire since her degree met the criteria. Staff was informed employee will receive the 5% increase with retroactive pay to July 2012.
Met with a DOH member to discuss retirement. Though not yet eligible, she wanted to learn about early retirement options and the effect this would have on her benefit. She requested estimates for 25 year retirement and service retirement so she could compare the difference.
Assisted DMHSAS member with questions about how FMLA works and what her responsibilities are. She needed to request intermittent FMLA due to a chronic health condition that can result in absence from work from time to time.
Met with DOT member to discuss retirement plans for later this year. Member is eligible for service retirement and plans to retire in October after receiving longevity in September. Member will retire with over 23 years of service.
As you can see, it pays to be a member of TSEA! To find out more about what TSEA's Compensation and Benefits department can do for you, contact your TSEA field rep or call the TSEA office toll-FREE at 1-800-251-8732. And remember, we can only help if you are a member!