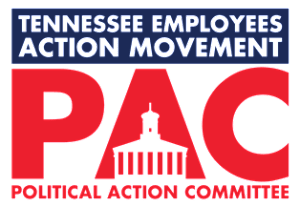 The Tennessee Employees Action Movement, or TEAM-PAC, is the Political Action Committee of TSEA.
TSEA members are involved in the political process through TEAM-PAC.
TEAM endorses candidates in gubernatorial and state legislative races and provides financial and volunteer support in the races of candidates who have worked with the Association to address the concerns of employees.
TEAM is governed by a nine-member administrative committee with three members elected from each of the state's three regions.
Helpful links:
Are you registered to vote? Do you know where to vote? Click here to check.