FOR IMMEDIATE RELEASE:
March 31, 2016
Contact: Chris Dauphin
Phone: 615-256-4533, 800-251-8732
[email protected]

TSEA hires Randy Stamps as executive director
NASHVILLE – The Tennessee State Employees Association today announced the selection of Randy Stamps as their new executive director. Stamps takes over the position from LaTanya McAdoo, who has served as interim executive director since last April. The selection was made at the March meeting of TSEA's board of directors after a regional search and interview process during which Stamps served as government affairs director for the association.
"It's my privilege to announce Randy Stamps as our new executive director," TSEA President Bryan Merritt said. "Randy has an impressive political background working directly as a Legislator and in Party support roles. I personally have every confidence in him and believe our board has made a fantastic choice."
Stamps served as state representative for the 45th District for five terms, from 1988-1998.   He also served as political director for the Tennessee Republican Party from 2003-2009, as well as policy and research counsel to the TN House of Representatives. Most recently, Stamps has been the government affairs director for TSEA since 2014.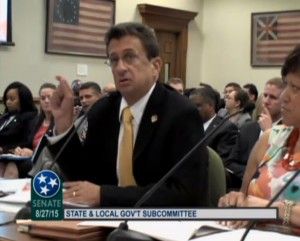 "I have talked and visited with state employees across our state, I am well aware of the many challenges facing our members, and I am honored to lead the team of professionals at TSEA," Randy Stamps said. "Tennessee is blessed to have dedicated, hardworking professionals serving our state, and I plan to continue to using my contacts and experience as both a legislator and legislative staffer to fight for all state employees."
"It is with great excitement that I relinquish the duties of executive director to Randy Stamps," TSEA Interim Executive Director LaTanya McAdoo said. "Two years ago, when he joined our staff, Randy quickly established his commitment to TSEA's mission and to our members. During that time, through his humility, he also earned the respect of the TSEA board and staff.  Randy's expertise and respect on the Hill is a remarkable benefit that, like Randy, is a great asset for TSEA.  He will lead this association forward!"
Randy Stamps earned his law degree from Pepperdine University and holds a bachelor's degree in Government Public Administration from Lipscomb University.
###
Founded in 1974, TSEA represents the rights and interests of all state employees in Tennessee and has a rich history of improving the lives of its state employee members. For more information, visit TSEA's website at www.tseaonline.org