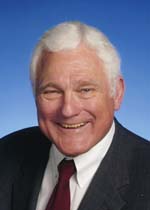 Goodlettsville – Senator Joe Mann Haynes passed away on Jan 26, 2018, at the age of 81. Born in his family home in Castalian Springs on Oct. 8, 1936, he was the son of Joe D. and Lucy Haynes, who predeceased him. He is also predeceased by his daughter, Amy Elizabeth Haynes, and his sister-in-law, Patricia Norman.
Survived by the love of his life and wife of 58 years, Judge Barbara Jean Norman Haynes. He is also survived by his sister, Kathleen Haynes, his brothers-in-law, J.D. Norman Jr. and Robert Kendall Norman, and his children Jeffery Norman Haynes (Lucy), Scott Kendall Haynes (Julie) and Amanda "Mandy" Haynes Young (Stephen) and seven grandchildren, who were the apples of his eye, Campbell, Furman, Benjamin and Carrie Haynes and Haynes, Adam and Mary Neely Young. He is also survived by his beloved friend and assistant of 39 years, Judy Callis.
He grew up on the family farm in Castalian Springs, Tennessee and was the first one in his family to graduate from high school. At the encouragement of his favorite math teacher, he attended the University of Tennessee where he met Barbara Jean and from which he graduated in 1959. They married in September of 1959. He went to work at Dupont after graduation much to the dismay of his mother who wanted him to be a preacher. Later he attended and then graduated from the Nashville School of Law and was admitted to the bar in 1965. He started his own law firm at which he worked until the day he died and is now known as Haynes, Freeman & Bracey. He loved helping his clients and ably and passionately tried 100s of lawsuits. He loved to fight for the underdog. He was first elected to the Goodlettsville City Commission in 1976 and was later elected to the Tennessee State Senate in 1984, he served for 28 years. His long career as a lawyer, volunteer, and elected official epitomizes his willingness to serve others.
He loved nothing more than the Tennessee Vols, the Atlanta Braves, the Tennessee Titans, his family farm in Castalian Springs, fishing with Barbara with a cane pole, Jack Daniels, and his family.
---
Visitation will be held at Cole and Garrett Funeral Home, Goodlettsville, Tn on Wednesday, Jan. 31st from 10:30 a.m. to 12:30 p.m. and 4:00 p.m. to 7:00 p.m. Visitation will also take place prior to the funeral on Feb. 1st from 10:30 a.m. to 12:30 p.m. at Westminster Presbyterian Church with the funeral following at 1:00 p.m. Private family burial will follow. Honorary pallbearers are his current and former law partners, current and former Goodlettsville City Commissioners and City Managers and State Senators that served with him during his esteemed career.
In lieu of flowers, memorials may be made to the Montgomery Bell Academy Joe and Barbara Haynes Scholarship Fund, the Goodlettsville Help Center, Bledsoe's Lick Historical Association or the charity of your choice
.
Please smile today and share it with someone else in his honor. He always had a smile on his face and a twinkle in his eye. Or take a moment to help someone as he would have.
Published in Tennessean from Jan. 28 to Jan. 30, 2018