FOR IMMEDIATE RELEASE:
March 4, 2015
Contact: Chris Dauphin
Phone: (615) 256-4533, 800-251-8732
[email protected]
TSEA Survey: State Performance Evaluation system subjective, limited 
NASHVILLE – The Haslam administration plans to eliminate across-the-board pay raises and tie state employee pay and compensation to performance evaluation results, but the objectivity of the State's performance evaluation system is in question according to a recent survey by the Tennessee State Employees Association.
Beginning in January, the Governor's Pay-For-Performance (or Merit Pay) system would reward employees evaluated as "Valued" a 2% pay increase; employees evaluated as "Advanced" would receive 3%, and those evaluated as "Outstanding" would receive 4% for FY2016.
The TSEA survey, consisting of two questions and distributed to state employees, found that 87% of respondents believe the state's SMART Performance Evaluation system is subjective, meaning the results can vary due to a supervisors personal feelings, prejudices, or interpretations. Of survey respondents, 79.4% also indicated they were told by their supervisor that they cannot be evaluated higher than a "3" or what is considered "valued."
"The Haslam administration wants to take away longevity pay for state employees and only 'reward' employees based completely on a subjective and possibly restricted performance evaluation system." said TSEA Executive Director John Summers. "We are very concerned that, even if funds are available each year for raises, some employees under the Governor's performance-pay system will find their earning potential limited by their supervisors."
According to DOHR Commissioner Rebecca Hunter, the department's own audit of the SMART Performance Evaluation system indicated the system was only "92% smart." TSEA believes there is more work to be done before we can be assured Governor Haslam's pay-for-performance system is objective and fair to all state employees.
Founded in 1974, TSEA represents the rights and interests of 43,000 state employees in Tennessee and has a rich history of improving the lives of its state employee members. For further information, visit TSEA's website atwww.tseaonline.org.
###
SURVEY RESULTS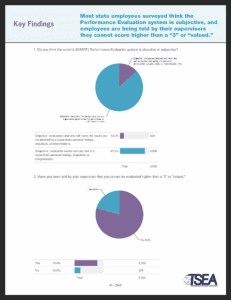 To view TSEA's Performance Evaluation survey results, Click the image to the right or the link below.