We are making good progress on the hill, and it's looking like session will come to a close by early May. The pace has been rapid, but we're keeping up and moving forward. We are hopeful for a successful conclusion to session.
Paid Leave
The House Finance Committee this week approved an amendment to HB324, which includes providing state employees with six weeks of paid leave. While this is a positive development, it falls short of the Governor's original proposal of 12 weeks.
Fortunately, the Senate version of the bill still includes the full 12 weeks of paid leave, and we have received a commitment from the Governor's office to push for more time. As a result, we remain optimistic that the final version of the bill will be more favorable to state employees. If this version of the bill passes the House, there will likely be a conference committee to reconcile the differences between the House and Senate versions, which may result in further changes. We will keep you informed as the situation progresses.
Apart from the paid leave provision, it is important to remember both versions of the bill have other positive changes for state employees. For instance, new employees will receive all their annual leave for the year on their hire date, and current employees will receive it all on each service anniversary date. The bill also changes the statute language to allow the state to fund all or part of voluntary benefits, including dental insurance and long-term disability benefits.
While we would prefer the full 12 weeks of paid leave, the approval of 6 weeks is still a step in the right direction. As always, TSEA will continue to advocate for the best possible outcomes for state employees and keep you updated on the latest developments on this and other legislation important to state employees.
The Governor's Supplemental Budget
The Governor's supplemental budget is expected to be released Tuesday. This is essentially extra money that has come in since the initial budget was filed. The Governor's supplemental budget is like a bonus check that the state receives after it has already planned how to spend its money. This extra money can be used to address unexpected needs or support new initiatives that were not included in the original budget. We will keep you informed of any updates related to how these additional funds are allocated.
DCS
We want to commend Commissioner Quin, who has worked tirelessly to get money approved from savings in the DCS budget at mid-year so that it can be distributed as soon as possible. The DCS budget includes a line item that refers to increases in salary for case managers. Once approved, this money will make the raises from earlier this year permanent.
TDOT
TN Deputy Governor and TDOT Commissioner Butch Eley and his executive management team held a meeting with TSEA Executive Director LaTanya McAdoo and Deputy Director Terry Carroll to discuss upcoming changes and opportunities for employee advancement within the organization. More detail to come!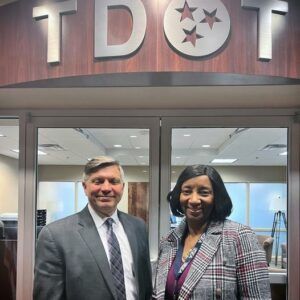 Pipctured: TSEA's Exec. Dir LaTanya McAdoo (r) and Deputy Exec. Dir. Terry Carroll (l) after their meeting with TDOT this week
---
Legislation
CLICK HERE for the latest status for key legislation we are monitoring or working to advance.
As a reminder, Livestreams and videos of legislative meetings and activities are accessible on the legislative calendar page at this link:
https://wapp.capitol.tn.gov/apps/schedule/
---
Lobby Day
As you know, the deadline to register for Lobby Day has passed. For chapters registered to attend on April 11, please continue to schedule appointments with your legislators. You can find the tentative lobby day schedule by clicking here. If you need to find out who your legislators are, click here to look them up.
CONFIRMED: Lt. Gov Randy McNally and House Speaker Cameron Sexton have confirmed their attendance at our Lobby Day event in the House Chamber during our morning session. With this information, chapter members may want to schedule a few meetings with their legislators before 9:00 a.m., or after the conclusion of speakers in the House Chamber.
If you're not able to attend Lobby Day, we encourage you to look up your legislators and email them during the week of Lobby Day (April 11). Here is a recommended message to send:
Dear <Senator/Representative>,
Although I couldn't attend TSEA's State Employee Day on the hill, I want to thank you for your support of active and retired state and higher education employees. Your overwhelming response to our needs has been truly appreciated, and it won't be forgotten anytime soon. We're looking forward to having you as a guest at one of our TSEA chapter meetings in the near future!
West TN Bus to Lobby Day
A bus from West TN has been reserved for a one-day trip to Nashville on Tuesday, April 11, for active and retired TSEA members to attend TSEA's 2023 Lobby Day. For complete details on the bus from Shelby County, including how to reserve a seat on the bus, CLICK HERE.
---
That concludes our update for this week. Stay tuned to our legislative updates for the latest news about the work TSEA is doing for you on the hill. Thank you for being a TSEA member!